There was a healthy amount of expectation that Travis Meeks (Days of the New) would repeat some of his past discomfiting onstage antics at Jim Porter's last night.  A smashed guitar, an angry outburst at a fan or sound man, or an inebriated tumble off stage would not have been unforeseen.  Surprisingly, none of the aforementioned occurred.  The Travis that performed last night was the musician his fans came to see… one who was focused on the task at hand – performing.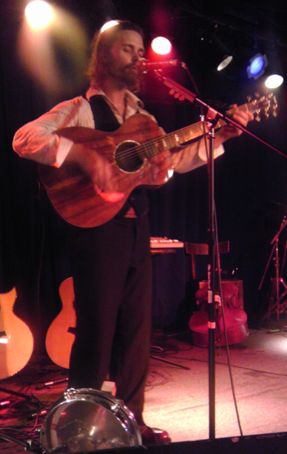 Meeks/DOTN opened with "Flight Response" and followed up with the former radio hit, "Enemy."  Meeks addressed the crowd directly for the first time after completing two songs to say, "Thanks a lot; thanks a lot… Yeah, I'm looking good, huh?  At least I think so…" By looking good, he could have been referencing the unusual outfit he was wearing, or he could have been referring to his seemingly sober appearance.  Diet Pepsi appeared to be the beverage of choice for the night, at least on stage.
It was the 1998 hit, "Shelf in the Room," that turned an empty dance floor into a collection of standing people coming in to the stage area to get a closer look at the performance.
Choosing from any one of the five Taylor guitars onstage, Meeks continued to  play through a set list that included other well-known tracks of "Touch, Peel and Stand" and the closer, "The Down Town."  Lesser known songs such as "Super Hero," "Cling," "Provider," "Take Me Back Then," and "Dancing With the Wind" were also performed to a smaller posse of die-hard fans.  Nothing was played from the 'red' album, and little from the newest, more wordly-sounding material.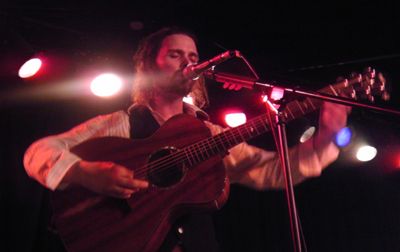 The introductions and endings throughout the night were filled with his trademark feedback-laced expressions and tones, setting a mood and navigating him to a place where he was satisfied to begin or end.  While he seemed edgy at times, there was a transparency to his moments of settling in to a zone during certain points of the night.  These moments produced a show worth seeing, proving that a professional Travis Meeks on his game is a hard act to beat.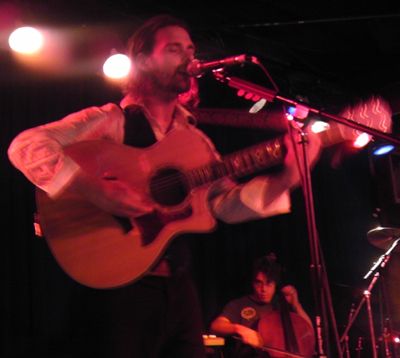 Following the show, backstage, a frazzled statement by the singer made while moving his equipment showed the reality of falling from the tall pedestal of fame… "I'm not a rockstar anymore… I gotta' work!"
I say, "keep up the good work."